We can Save Your Money Just By Making One Simple Change
What are Managed Print Services
What is a "managed print service" (MPS)? The managed print definition is broad, but the end result is simple: gaining visibility and control of your printing, which helps you save money and boost productivity. Managed print also helps you improve environmental sustainability and document security.
By "printing" we mean the total cost of managing and optimising your printers, their output, and the people and processes that support these devices. This includes:
 Pages produced by office workers, mobile workers & production print operation
 Desktop printers, MFP's, copiers, scanners, fax machines & high-volume printers
 Materials sent out for quick printing, offset printing, mailing & distribution
 IT help desk support, technical service, maintenance, move & change requests
 Paper, Ink, toner and other supplies & consumables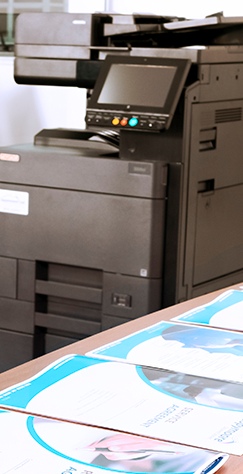 Why to choose Our Managed Print Services
Copymoore are Efficient Professional Trustworthy Friendly
We have been helping our clients cut costs for over 24 years.
Add up the costs of "printing" and it accounts for a large chunk – as much as 15% of a business's annual spending. Through managed print services, you can outsource print management and cut costs by as much as 30%. Not only can Copymoore document solutions help in cost saving but we also:
 Conduct a thorough, up-front assessment to analyse your current printing infrastructure
 Monitor, manage and optimize your total print output environment, regardless of printer brand
 Provide a roadmap to reduce the number and types of printing devices & supplies whilst still meeting business needs
 Reduce your environmental footprint through printing less paper, consuming less energy, generating fewer greenhouse gases and secure printing access
 Give telecommuters and mobile workers easy and secure printing access.
 Provide network management and information technology (IT) integration, from platform support to cloud-based solutions
 Have a proven track record in deploying managed print services anywhere in the world through a global network of highly skilled experts
 Turn slow, paper-based processes (like routing and approvals) into automated, digital ones.